Here Are The Top Indian Startups That Entered The Unicorn Club In 2021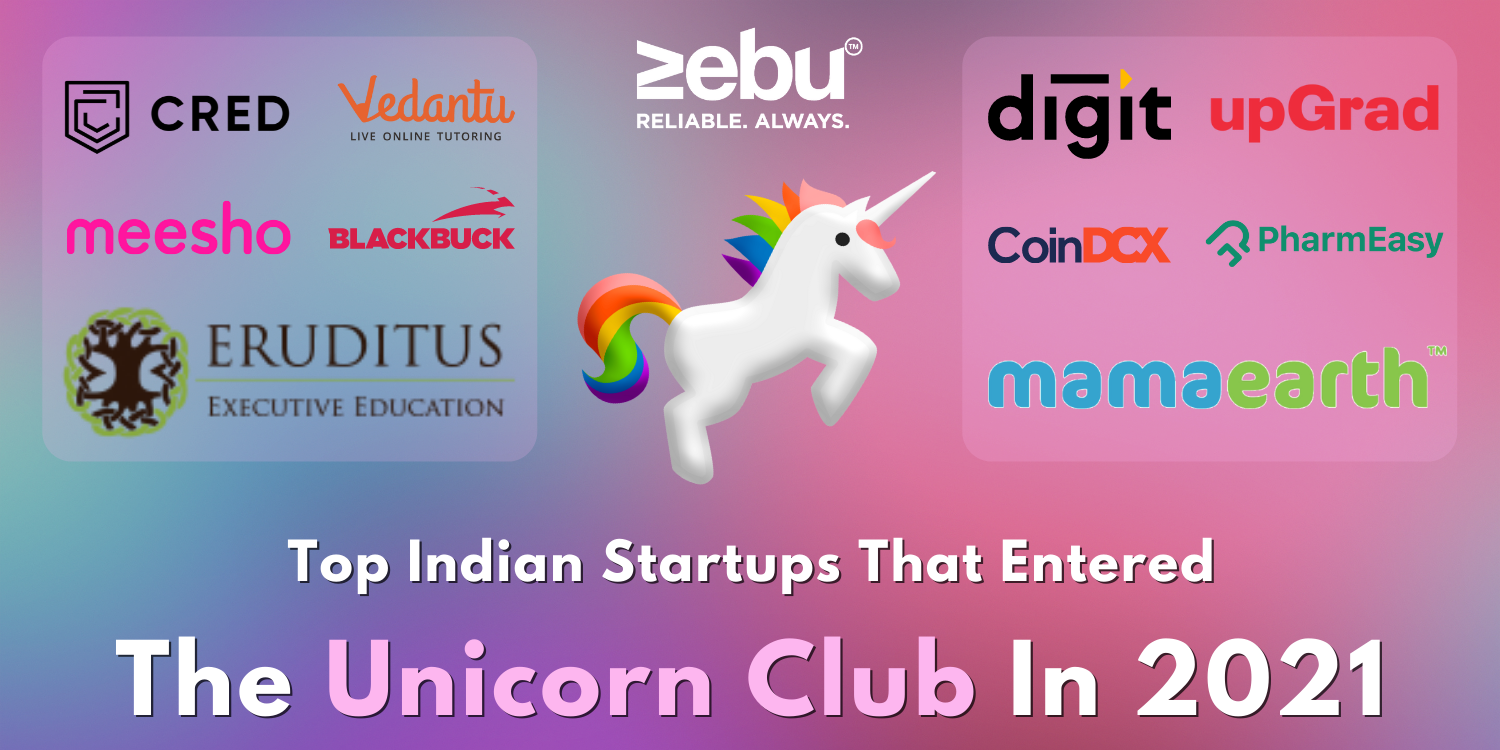 Thanks to a record-breaking round of funding for Indian entrepreneurs across all industries, India was able to witness a huge influx of unicorn companies. The unicorn club has already accepted 42 Indian startups. Over $38.4 billion has been raised as of December 4th, with many rounds expected to produce more Indian unicorns in 2022.
CRED
Founded by Kunal Shah, CRED entered the unicorn club with a stunning valuation of $2.2 billion despite having only INR 57 lakh ($76K, at current conversion rate) in operating income in the financial year 2020. DST Global, RTP Global, Tiger Global, Greenoaks Capital, Dragoneer Investment Group, and Sofina have all invested in CRED. The company focuses on premium credit card customers and offers them advantages in exchange for paying their credit card bills. CRED claims to have added over 5.9 million credit card users with a median credit score of 830 in the last two years.
Digit Insurance
Digit Insurance, valued at $1.9 billion, was founded by Kamesh Goyal. The Bengaluru-based startup Digit Insurance was the first Indian firm to join the coveted unicorn club in 2021. With options like smartphone-enabled self-inspection and audio claims, the platform streamlines general insurance processes with the help of technology. Although the total sum raised was not announced, media reports claim that the money was raised in two installments of $84 million and $18.5 million. This round of fundraising was led by Faering Capital, A91 Partners, and TVS Capital Funds.
MamaEarth
MamaEarth is also one of the few unicorn companies led by a woman. The five-year-old business has grown into one of India's most popular direct-to-consumer (D2C) companies. It claims to have made total sales of roughly Rs 500 crore in the previous fiscal year, and it forecasts a two-fold growth in FY22. Mamaearth had closed a $50 Mn funding round at a valuation of $730 Mn.
UpGrad
In 2015, ex-media tycoon Ronnie Screwvala, Phalgun Kompalli, Mayank Kumar, and Ravijot Chugh co-founded Upgrad with funding of just over Rs 170 crore. UpGrad, which has been around for six years, offers over 100 courses in data science, machine learning, AI, blockchain, finance, programming, and more.
Meesho
Meesho, founded in 2015 by IIT-Delhi graduates, Aatrey and Sanjeev Barnwal is an online reseller network for individuals and small and medium businesses (SMBs) that sell products within their network on social media channels such as WhatsApp, Facebook, and Instagram. The platform has around 13 million individual entrepreneurs, delivering the benefits of ecommerce to 45 million clients all over India. With a final round of investment raised to about $1 billion, the company's valuation is currently at $8 billion.
PharmEasy
PharmEasy is a chronic care company founded in 2015 by Dharmil Sheth and Dr. Dhaval Shah. The company's services include teleconsultation, medicine deliveries, and sample collection for diagnostic tests. It connects approximately 60K brick-and-mortar pharmacies and 4K doctors across India's 16K postal codes. The platform also includes a SaaS procurement solution for pharmacies, delivery and logistics support, as well as credit solutions. Since its founding, it claims to have serviced over 20 million patients. After acquiring Thyrocare, the company is valued at $4 billion.
Vedantu
Vedantu, an interactive online tutoring platform founded in 2014 by Krishna, Anand Prakash, and Pulkit Jain, claims to have over 35 million students attending live classes every month and teachers delivering about 8 million hours of LIVE classes, with a growth of 220 percent during the early months of the lockdown. After collecting $100 million in funding, the Bengaluru-based online tutoring business became the fifth largest Indian edtech unicorn. ABC World Asia, a Temasek-backed private equity firm based in Singapore, led the deal, with existing investors Coatue Management, Tiger Global, GGV Capital, and WestBridge joining in.
BlackBuck
In July, the Bengaluru-based logistics firm BlackBuck raised $67 million in a Series E round valued at over $1 billion. The company, founded by Rajesh Yabaji, is said to be India's largest online transportation platform, with a market share of over 90%. It helps truckers digitise their fleet operations and runs a marketplace to match trucks with suitable delivery cargoes. According to the company, it has over 700,000 truckers and 1.2 million trucks on its platform, with over $15 million in monthly transactions. After Delhivery, which is eyeing an IPO this year, and Rivigo, BlackBuck is the third logistics firm to become a unicorn.
CoinDCX
CoinDCX, with a $90 million (INR 670 crore) Series C funding round led by Facebook co-founder Eduardo Saverin's B Capital Group, Coinbase Ventures, Polychain Capital, Block.one, Jump Capital, and other unnamed investors, crypto exchange CoinDCX become India's first crypto unicorn. Founded in 2018 by Sumit Gupta and Neeraj Khandelwal, CoinDCX in December 2020, raised $13.5 million in its Series B fundraising round. It claims to have 3.5 million users. It runs CoinDCX Go, a cryptocurrency investment app, CoinEXPro, a professional trading platform, and DCX Learn, a crypto-focused investor education platform.
Eruditus
Mumbai-based edtech startup Eruditus, founded in 2010 by Chaitanya Kalipatnapu and Ashwin Damera became the fourth edtech unicorn in India. After it raised $650 Mn funding led by Accel US and Masayoshi Son-led SoftBank Vision Fund II, the fresh capital infusion has quadrupled the valuation of Eruditus to $3.2 Bn from $800 Mn last year. The startup will be receiving $430 Mn in primary capital and $220 Mn of secondary sale proceeds will go to existing investors who are offloading part of their shares. Cofounder Ashwin Dhamera and other top management personnel announced that they would be liquidating shares worth around $100 Mn in the round. With so many companies moving to unicorn status in 2021, we can only imagine what the entrepreneurs of 2022 have in store for us.