Top 5 stocks in Nifty 100 That Gave The Highest Returns in 2021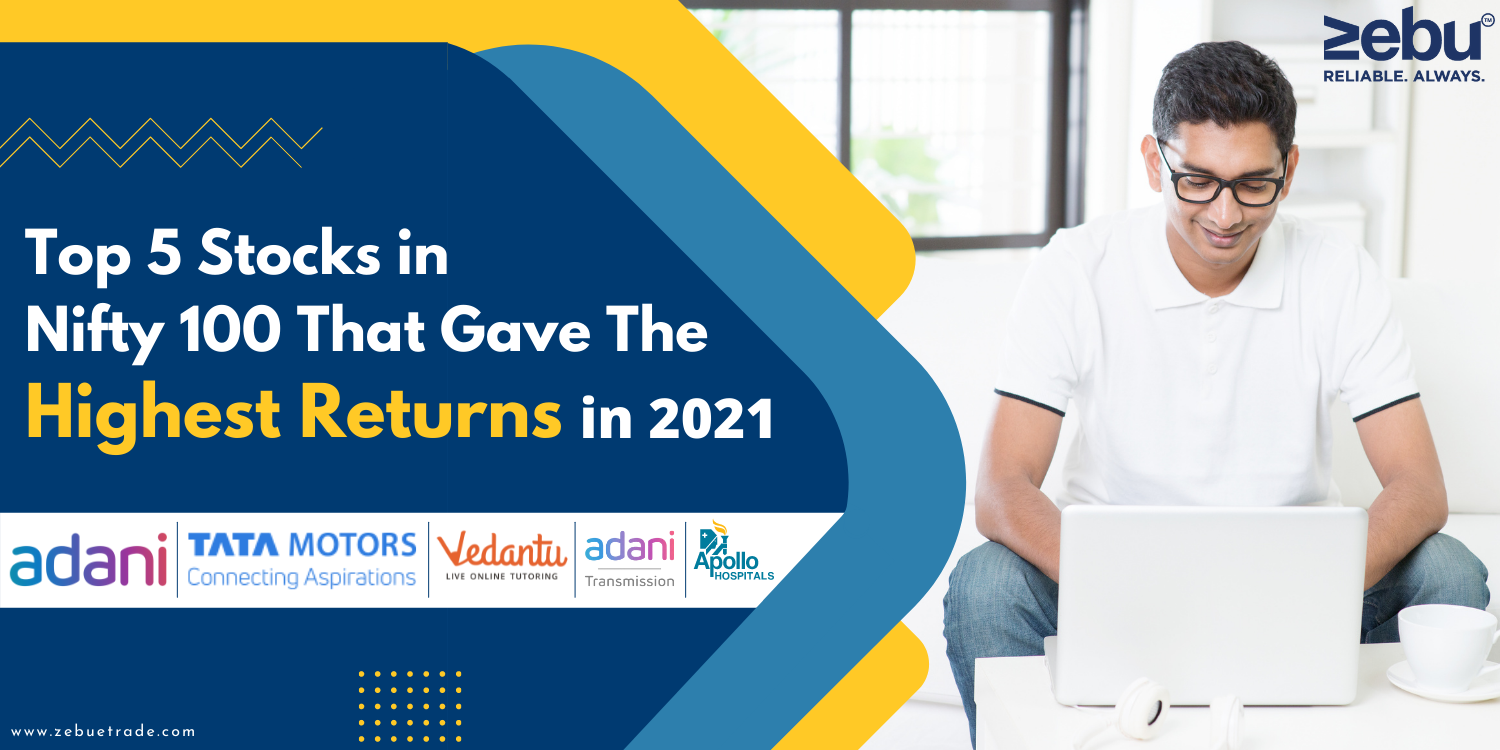 As the pandemic spread increased and decreased throughout the year, the stock market had ups and downs in 2021. Despite concerns over the second wave of covid infections, Indian stock markets outpaced emerging markets in the first six months. Due to the rising rate of immunisation, the government's stimulus measures, and the Reserve Bank of India's liquidity support operations, investors were glued to Indian stocks from January to June. The IPOs in the second half of the year functioned as an antidote for the stock market. In 2021, the Indian stock market benefited from a surge of money unleashed by global central banks, which supported domestic policies, as well as the world's largest vaccination campaign, which sparked a world-beating increase on Dalal Street, despite concerns about inflated values. These are the five stocks from the Nifty 100 with the best one-year returns.
Adani Transmission
Adani Transmission Limited is a holding company specialising in the generation and distribution of electricity. The business is a power transmission company. The company was involved in the transmission of electric energy as well as the trade of castor oil. Adani Transmission owns, maintains and operates more than 50,050 circuit kilometres of transmission lines with a total transformation capacity of more than 12,000 megavolts ampere and voltages ranging from 400 to 765 kilovolts (MVA). Adani Transmission Limited was a high-growth firm from the Nifty 100 index, with a one-year return of 322 percent and a market capitalization of Rs 2000434.89. It is now trading at INR 1772.00 per share, with a 52-week high of INR 2,045 and a 52-week low of INR 397.15.
Adani Enterprise
Adani Enterprises Limited is a holding company with a diverse portfolio of businesses. The company's operations include coal mining, coal trading, oil and gas exploration, ports, multi-modal transportation, electricity production and transmission (CGD), renewable energy, and many more. It has a CGD business through Adani Gas Limited, which serves industrial, residential, as well as commercial clients with piped natural gas (PNG) as well as compressed natural gas (CNG) for vehicle use. With a market cap of Rs 184350.17 Cr, Adani Enterprise Limited was the second high-growth firm from the Nifty 100, with a 261.5 percent gain in a year. It is now trading at INR 1,711.50 per share, with a 52-week high of INR 1,788.9 and a 52-week low of INR 435.75.
Tata Motors
Tata Motors is one of India's largest automakers, owning divisions such as Jaguar and Land Rover. In India, the firm is also the market leader in the production of four-wheeled electric vehicles, followed by Mahindra and Mahindra. The company's total operational revenue was INR 47031.47 CR for the year ending March 31, 2021, and its equity capital was INR 765.81 Cr. Tata Motors Ltd. with headquarters in Maharashtra, is a public limited company and was founded on September 1, 1945. The company's stocks gave its third biggest returns of 179.1% in 2021. Tata Motors with a market capitalization of INR 1,66,759 crore is one of the most valuable stocks in India's automobile sector . It is currently trading at INR 468.35 per share, with a 52-week high of INR 536.70.
Vedanta
Vedanta Limited, which was founded in 1965, manufactures copper and copper goods, as well as aluminium products. Some segments of the company include copper, continuous cast rod and anode slime, aluminium, sulfuric acid, power, and pig iron and metallurgical coke. Custom smelting is the company's copper business and Vedanta is one of the greatest diverse natural resource companies in the world. Vedanta Limited's operations are spread out over India, Ireland, Namibia, South Africa, and Australia. The corporation operates iron ore mines in the Indian states of Goa and Karnataka. In terms of ROI, the company fared remarkably well on the stock market in 2021. It yielded a whopping 128.6 percent profit. The company, which has a market capitalization of INR 1,28,130 Cr, has a bright year ahead of it.
Apollo Hospitals
Apollo Hospitals Enterprise Limited is an Indian healthcare company that operates throughout India and globally. Apollo Hospitals is in the business of providing healthcare and services such Pharmacy, Health, and other are among the company's segments. Its tertiary care hospitals offer services in gastroenterology, cardiac sciences, critical care, neuroscience, orthopaedics, radiology, cancer, and transplantation, among other disciplines. In addition, the organisation offers project consulting, health insurance, education and training programmes, and research services. Apollo has birthing centres, day surgical centres, and dental clinics under its umbrella. Apollo Hospitals stock delivered 96.2% return, 5th highest from Nifty 100 in one year. The company's shares are currently trading at INR 4826 per share, with a 52-week low of INR 2251 and a 52-week high of INR 4854.40. As of December 27, it is priced at INR 337.50 per share with 52 weeks highest at INR 1,788.9 and lowest INR 435.75. With these stocks having more juice than ever to give more returns in the next few years, it would be ideal to wait for a correction before jumping on the growth-wagon.