Everything That Zebu Was Upto In 2021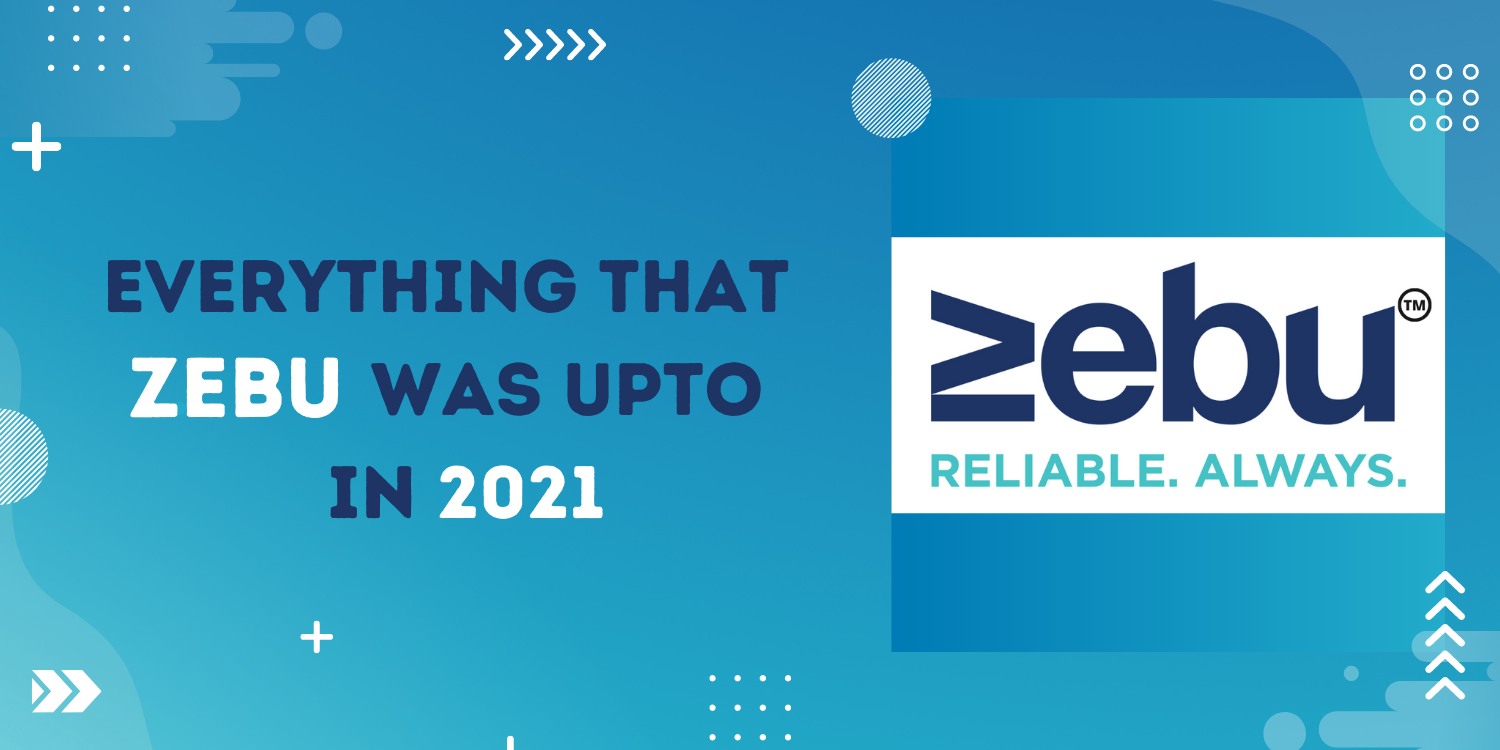 Being one of the fastest-growing brokerage firms in India, we feel that it is our responsibility to educate investors and traders and empower them with the right technological tools they need to make informed financial decisions. In that aspect, we have been our end-user tools like Zebull and Smart Trader. constantly updating
Here are the products and services that were updated to become more feature-packed for our customers.
1. Zebull Web
Zebull is the web application from Zebu that allows traders and investors to make use of a plethora of indicators and screeners to form their biases for intraday trading, swing trading or long-term investments. With our latest upgrade to the mobile version, users can now view and make use of the average MTM to exit a trade properly.
2. Smart Trader Web
This is a standalone trading application that can be downloaded and installed on a PC. This year, we launched the mobile version of the same to help traders access their trades very quickly. These web and mobile versions come with additional functionalities like advanced charting and screening, as opposed to the ones you can find in the regular apps from Zebu.
3. New eKYC system
Opening an account with Zebu has never been easier with our new eKYC system that enables paperless and real-time customer onboarding. With frictionless digital onboarding in place, any customer can quickly open an account online in a few hours.
4. Online ReKYC
With our new paperless systems, you can do a reKYC at specific intervals to stay compliant with SEBI's regulations. You can even effortlessly change or update your personal information in a few clicks.
5. Online SGB
Sovereign Gold Bonds are Government securities denominated in multiples of gram(s) of gold. They are substitutes for investment in physical gold. On redemption, cash is deposited into the investor's registered bank account. These Bonds are issued by the Reserve Bank of India on behalf of the Government of India and are traded on a stock exchange. Zebu makes it easy for you to make an investment in SGB.
6. Upgraded Website
With an extremely easy-to-use UI and improved usability, we have launched a new and responsive website for Zebu. You can access more information about the products and stay up-to-date on any updates from us.
7. Single sign-on
An SSO component adds an additional layer of security to your trading account with us. API users can also use this to log in to their accounts without their credentials.
8. UPI fund transfer
Users can now use their default UPI gateways to add funds to their accounts. The money will be added to the customers' ledger without any latency.
9. Online pledge
Our customers can use our highly secure online platform to pledge their securities without providing any physical documents.
10. Span calculator
Clients can now easily calculate margin requirements for their trades and investments through a real-time calculator.
Outreach through financial education
Our Founder & CEO Mr. Vijaykumar has written information-rich articles for Vikatan, a regional magazine in Tamil Nadu. These articles contain insights and information that will allow readers to connect the dots between news events and their impact on the share market. Here are a few titles of the articles he has authored.
1. The Reserve Bank ordered the dissolution of the board of directors of SREI and recommended a three-member panel to run the company.
This article follows the measures taken by the RBI to restructure SREI and bring it back on track to become more accountable to its employees, customers and shareholders.
2. What's the problem with China's Evergrand real estate company?
This one outlines the problems of the company Evergrand in China. The debt-ridden company suddenly seemed to put on a clown show for the public by constantly shifting its business focus.
3. T1 settlement from SEBI
This is his take on SEBI's new rule to change settlement duration from T+2 to T+1. He shares his insights on what this means for traders and investors.
4. Can start-up companies invest when it comes to IPOs? Lessons from Zomato
In this article, Mr. Vijaykumar analyses the IPO of Zomato and drives a few lessons that can empower retail investors going in for the next few IPOs of the year.
5. Can I buy a stock just by looking at the PE ratio? Attention investors
PE ratio forms an integral part of fundamental analysis and in this article, he explains its relevance in today's investment decisions.
6. Recession… But why is the stock market rising? Answer to the question of investors
In this article, he helps new traders and investors understand the relationship between inflation and market movements. At Zebu, we work constantly to improve our products and services. We always appreciate any feedback that we can incorporate to improve your experience with us. We would love to hear from you at grievance@zebuetrade.com